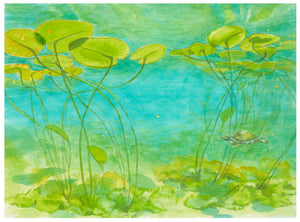 Georgian Bay Watercolors
Lilies in Frog Bay, watercolor print
Regular price
$30.00
$0.00
Welcome to the enchanting painting titled "Lilies in Frog Bay"! This picturesque artwork captures the underwater world in all its peaceful and serene glory, with the lush and vibrant lake lilies taking center stage.
The painting shows the wild lake lilies spread across the bay, creating a luxurious habitat for the aquatic creatures that call it home. The graceful stems of the lilies push their way up to the surface, providing a sheltered spot for a happy little swimming lake turtle to enjoy.
The colors in the painting are a soothing mix of aqua blues and greens, creating a dreamy and calming atmosphere. The lilies themselves are breathtaking, with their soft petals and long, slender stems reaching toward the sunlight that shines through the water.
This delightful painting captures the beauty and tranquility of the underwater world, reminding us of the wonders that exist beneath the surface of our lakes.  It's a perfect representation of the carefree and happy spirit of the aquatic world, where every creature finds a place to thrive and enjoy life.
Painted by Pamela Hallock from the 2018 Collection. This print is available as a giclee, a digitally reproduced fine art print on watercolor paper called Somerset Velvet. Please see giclee descriptions. All giclee prints are a limited edition of 250, signed, numbered and dated. Available in two sizes, 18 in. x 24 in. or 9 in. x 12 in. Giclee prints have a 1/2 in. border on the sides and top, and a 2 in. border on the bottom. Fine art prints are shipped flat.
This print is also available on Premium Poster Paper. Please see paper descriptions. Poster prints are available in two sizes, 18 in. x 24 in. or 9 in. x 12 in. All poster prints have a 1/4 in. border on all four sides. 
Due to the differences in computer monitors, the color of the actual print may vary.
Copyright Pamela Hallock 2018
FALSE
---
More from this collection