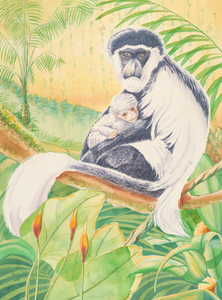 Georgian Bay Watercolors
Anza with Valentina, Cincinnati Zoo & Botanical Garden, watercolor print
Regular price
$30.00
$0.00
The painting depicts Anza, a magnificent Colobus monkey, with her little baby, Valentina, cradled in her arms, in the midst of a lush jungle. Anza exudes confidence and grace as she nurtures her young one. The intricate details of her unique black and white fur are beautifully captured, adding depth and texture to the painting. The baby Valentina, born in the spring of 2021, is still covered in soft, white, curly fur, which adds to the overall warmth of the scene. The lush jungle in the background brings the scene to life, with a variety of greens, browns, and yellows adding depth and contrast to the painting. The painting is an endearing portrait of motherhood, as Anza lovingly gazes down at her baby. The overall effect is a heartwarming portrayal of a mother's love and the innocence of a new life, set against the backdrop of a vibrant and thriving jungle.
Painted by Pamela Hallock from the 2021 Collection. This print is available as a giclee, a digitally reproduced fine art print on watercolor paper called Somerset Velvet. Please see giclee descriptions. All giclee prints are a limited edition of 250, signed, numbered, and dated. Available in two sizes, 22 in. x 30 in. or 14 in. x 19 in. Giclee prints have a 1/2 in. border on the sides and top, and a 2 in. border on the bottom. Fine art prints are shipped flat.
This print is also available on Premium Poster Paper. Please see the paper descriptions. Poster prints are available in two sizes, 22 in. x 30 in. or 14 in. x 19 in. All poster prints have a 1/4 in. border on all four sides. 
The original artwork is 22 in. x 30 in.
Due to the differences in computer monitors, the color of the actual print may vary.
Copyright Pamela Hallock 2021
FALSE
---
More from this collection