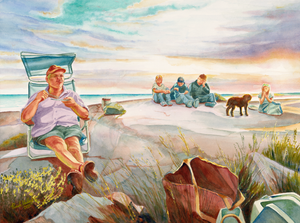 Georgian Bay Watercolors
End of Day Picnic, watercolor print
Regular price
$50.00
$0.00
This painting showcases a serene moment in time, capturing a group of individuals enjoying the simple pleasures of life while watching the sunset on the shoals of Georgian Bay. The rich colors of the sunset, in shades of lavender and orange, are beautifully depicted against the tranquil waters of the bay, while the warm glow of the sun's rays imbues the scene with a sense of calm and contentment.
In the foreground of the painting, we see a man sitting in a camp chair, thoughtfully observing the sunset, lost in his own contemplation. Meanwhile, in the background, a group of children sits together with their dog, enjoying each other's company and basking in the beauty of the moment. Their presence adds a touch of innocence and playfulness to the scene, evoking a sense of nostalgia and peacefulness.
The painting captures the simple pleasures of life - the joy of being surrounded by nature, the companionship of loved ones, and the appreciation of a natural phenomenon as awe-inspiring as the sunset. Overall, the painting offers a gentle reminder of the beauty that surrounds us, encouraging us to take a step back and enjoy the simpler things in life.
Painted by Pamela Hallock from the 2021 Collection. This print is available as a giclee, a digitally reproduced fine art print on watercolor paper called Somerset Velvet. Please see giclee descriptions. All giclee prints are a limited edition of 250, signed, numbered, and dated. Available in two sizes, 24 in. x 18 in. or 12 in. x 9 in. Giclee prints have a 1/2 in. border on the sides and top, and a 2 in. border on the bottom. Fine art prints are shipped flat.
Due to the differences in computer monitors, the color of the actual print may vary.
Copyright Pamela Hallock 2021
Original artwork is 24" x 18" inches
FALSE
---
More from this collection