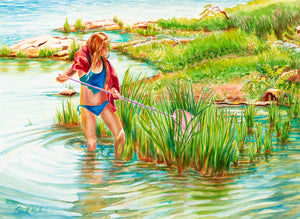 Georgian Bay Watercolors
Frogging, watercolor print
Regular price
$30.00
$0.00
In this painting, we see a preteen girl in a swimsuit, enjoying a sun-soaked day on Georgian Bay. She's on a mission to catch some frogs, crawdads, and whatever else she can find in the reeds, armed with a giant pink minnow net.
With her towel hanging loose around her neck, she's free to enjoy the endless summer sky and admire the stunning blue and green reflections on the clear water. The scene is set against the backdrop of granite shoals and bright summer skies, which make the perfect setting for her adventure.
The girl is completely in her element, fully immersed in her search for aquatic creatures. She has a determined look on her face, her gaze is fixed intently on the water, scanning for her next catch.
This painting captures the carefree and joyful spirit of summertime, where kids can let loose and explore the natural world. It's a scene of pure fun and adventure, where the thrill of the hunt is just as exciting as the catch itself
 Painted by Pamela Hallock from the 2020 Collection. This print is available as a giclee, a digitally reproduced fine art print on watercolor paper called Somerset Velvet. Please see the giclee descriptions. All giclee prints are a limited edition of 250, signed, numbered, and dated. Available in two sizes, 18 in. x 24 in. or 12 in. x 16 in. Giclee prints have a 1/2 in. border on the sides and top, and a 2 in. border on the bottom. Fine art prints are shipped flat.
This print is also available on Premium Poster Paper. Please see the paper descriptions. Poster prints are available in two sizes, 18 in. x 24 in. or 12 in. x 16 in. All poster prints have a 1/4 in. border on all four sides. 
Due to the differences in computer monitors, the color of the actual print may vary.
Copyright Pamela Hallock 2020
Original artwork is 18" x 24" inches
FALSE
---
More from this collection