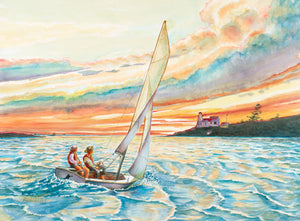 Georgian Bay Watercolors
Lighthouse for Sunset, watercolor print
Regular price
$30.00
$0.00
Welcome to this lively painting titled "Lighthouse for Sunset"! In this vibrant work of art, we witness the joyous tradition of sailing to the lighthouse to catch a breathtaking view of the colorful sunset.
The focal point is a small sailboat with two enthusiastic youths soaring through the brisk wind. The serene lake provides a perfect backdrop for this thrilling adventure, as the boat sails towards the lighthouse in the distance. The sky bursts with golden orange, yellow, and lavender hues, creating an unforgettable contrast against the darkening water.
This painting captures the carefree and fun-loving spirit of a simple moment, where the worries of the world fade away, and all that matters is the beauty of nature and the thrill of the adventure. It is a wonderful representation of the timeless appeal of sailing to the lighthouse, an experience that brings joy and excitement to people of all ages.
 Painted by Pamela Hallock from the 2020 Collection. This print is available as a giclee, a digitally reproduced fine art print on watercolor paper called Somerset Velvet. Please see the giclee descriptions. All giclee prints are a limited edition of 250, signed, numbered, and dated. Available in two sizes, 22 in. x 30 in. or 14 in. x 19 in. Giclee prints have a 1/2 in. border on the sides and top, and a 2 in. border on the bottom. Fine art prints are shipped flat.
This print is also available on Premium Poster Paper. Please see the paper descriptions. Poster prints are available in two sizes, 22 in. x 30 in. or 14 in. x 19 in. All poster prints have a 1/4 in. border on all four sides. 
Due to the differences in computer monitors, the color of the actual print may vary.
Copyright Pamela Hallock 2020
Original artwork is 22 in. x 30 in. 
FALSE
---
More from this collection