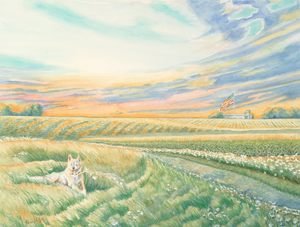 Georgian Bay Watercolors
Midwest Corn Fields
Regular price
$30.00
$0.00
Embark on a captivating journey through the boundless Midwest, where nature's abundance unfolds in a mesmerizing painting. The golden fields of corn stretch endlessly, inviting the viewer to immerse themselves in their splendor. A vibrant sunrise paints the sky with hues of pinks and oranges, as the morning sun triumphantly disperses the lingering clouds. At the horizon, a grand US flag waves proudly from the local Chevy dealership. In the foreground, a happy husky, finds solace upon a sun-kissed hillside, basking in the warm embrace of the morning light. Its presence infuses the scene with a delightful playfulness, capturing the pure joy of a new day. 
Painted by Pamela Hallock from the 2023 Collection. This print is available as a giclee, a digitally reproduced fine art print on watercolor paper called Somerset Velvet. Please see giclee descriptions. All giclee prints are a limited edition of 250, signed, numbered, and dated. Available in two sizes, 28 in. x 21 in. or 14 in. x 10 in. Giclee prints have a 1/2 in. border on the sides and top, and a 2 in. border on the bottom. Fine art prints are shipped flat.
This print is also available on Premium Poster Paper. Please see the paper descriptions. Poster prints are available in two sizes, 22 in. x 30 in. or 14 in. x 19 in. All poster prints have a 1/4 in. border on all four sides. 
The original artwork is 22 in. x 30 in.
Due to the differences in computer monitors, the color of the actual print may vary.
Copyright Pamela Hallock 2023
---
More from this collection