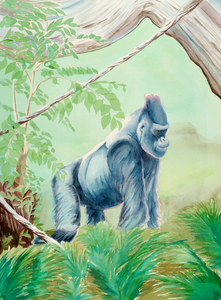 Georgian Bay Watercolors
Ndume, Cincinnati Zoo & Botanical Garden, watercolor print
Regular price
$30.00
$0.00
In this engaging painting, we see Ndume, the regal silverback gorilla, in his natural habitat, standing tall and powerful as he surveys the lush greenery of the jungle. His eyes are focused and alert, always on the lookout for any signs of movement from his troop.
The jungle that surrounds Ndume is a riot of color and life, with massive trees and vibrant foliage that create a sense of peace and tranquility. Cool blue tones give the scene a calming and soothing atmosphere, while the attention to detail is truly remarkable, capturing every aspect of the lush vegetation in vivid detail.
It's no wonder that Ndume is a favorite at the Cincinnati Zoo and Botanical Garden, where he inspires visitors with his commanding presence and powerful energy. In this painting, we see the regal silverback in all his glory, a symbol of strength and vitality in the heart of the jungle.  
Painted by Pamela Hallock from the 2021 Collection. This print is available as a giclee, a digitally reproduced fine art print on watercolor paper called Somerset Velvet. Please see giclee descriptions. All giclee prints are a limited edition of 250, signed, numbered, and dated. Available in two sizes, 30 in. x 22 in. or 19 in. x 14 in. Giclee prints have a 1/2 in. border on the sides and top, and a 2 in. border on the bottom. Fine art prints are shipped flat.
This print is also available on Premium Poster Paper. Please see the paper descriptions. Poster prints are available in two sizes, 30 in. x 22 in. or 19 in. x 14 in. All poster prints have a 1/4 in. border on all four sides. 
The original artwork is 30 in. x 22 in.
Due to the differences in computer monitors, the color of the actual print may vary.
Copyright Pamela Hallock 2021
FALSE
---
More from this collection