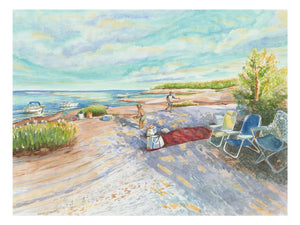 Georgian Bay Watercolors
Picnic, watercolor print
Regular price
$30.00
$0.00
This painting perfectly captures the essence of a quintessential summer day at Georgian Bay. With its vast horizon, warm sunshine, and lively company, it sets the scene for a fun-filled afternoon of relaxation and play. Colorful towels and picnic chairs adorn the foreground, while a playful Frisbee toss in the midground adds to the carefree atmosphere. Boats anchored off shore suggest endless possibilities for adventure and exploration, while warm and inviting light casts a soothing lavender hue over the pink granite landscape. It's impossible not to feel joyful and carefree while gazing upon this delightful work of art, which truly embodies the spirit of summertime in Georgian Bay.
Painted by Pamela Hallock from the 2018 Collection. This print is available as a giclee, a digitally reproduced fine art print on watercolor paper called Somerset Velvet. Please see giclee descriptions. All giclee prints are a limited edition of 250, signed, numbered and dated. Available in two sizes, 18 in. x 24 in. or 9 in. x 12 in. Giclee prints have a 1/2 in. border on the sides and top, and a 2 in. border on the bottom. Fine art prints are shipped flat.
This print is also available on Premium Poster Paper. Please see paper descriptions. Poster prints are available in two sizes, 18 in. x 24 in. or 9 in. x 12 in. All poster prints have a 1/4 in. border on all four sides. 
Due to the differences in computer monitors, the color of the actual print may vary.
Copyright Pamela Hallock 2018
FALSE
---
More from this collection