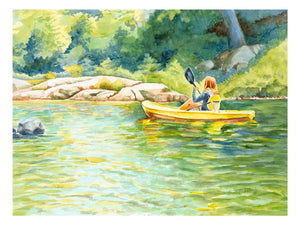 Georgian Bay Watercolors
Silent Bay, watercolor print
Regular price
$30.00
$0.00
In this delightful painting, the young girl in her kayak glides effortlessly through the still waters of Silent Bay, surrounded by the scent of fresh pine and water grass. The warm rays of the sun envelop her, making her feel alive and vibrant, while the occasional cool splash of water adds to the refreshing experience. The vibrant blue-green water, reflecting the clear blue sky above, provides a beautiful contrast to the lush green pine trees that create a sense of shelter and intimacy. The girl paddles her kayak soundlessly, careful not to disturb the nearby waterbirds, as she takes in the serene ambiance of her natural surroundings. This artwork exudes a feeling of joy and relaxation, inviting the viewer to escape the hustle and bustle of everyday life and savor the simple pleasures of the great outdoors. 
Painted by Pamela Hallock from the 2018 Collection. This print is available as a giclee, a digitally reproduced fine art print on watercolor paper called Somerset Velvet. Please see giclee descriptions. All giclee prints are a limited edition of 250, signed, numbered and dated. Available in two sizes, 18 in. x 24 in. or 9 in. x 12 in. Giclee prints have a 1/2 in. border on the sides and top, and a 2 in. border on the bottom. Fine art prints are shipped flat.
This print is also available on Premium Poster Paper. Please see paper descriptions. Poster prints are available in two sizes, 18 in. x 24 in. or 9 in. x 12 in. All poster prints have a 1/4 in. border on all four sides. 
Due to the differences in computer monitors, the color of the actual print may vary.
Copyright Pamela Hallock 2018
FALSE
---
More from this collection