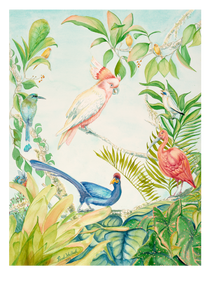 Georgian Bay Watercolors
Songs of Friendship
Regular price
$30.00
$0.00
Imagine stepping into a vibrant jungle paradise! This painting celebrates the exotic avian wonders of the Cincinnati Zoo and Botanical Garden. At its heart, a splendid Major Mitchell's cockatoo stands tall in creamy elegance, commanding attention like a regal conductor. Look closely, and you'll spot the whimsical blue Lady Ross Turaco, who's so enamored with treetop antics that it rarely takes flight. And oh, the mythical Crowned Motmot, a dazzling aqua spectacle, casts its admiring gaze upon the resplendent Scarlet Ibis and the mysterious Bali Myna, masked in intrigue. The canvas bursts with tropical life as lush foliage weaves around these feathered stars, and perched atop this verdant crown, three minuscule golden Saffron Finches add a sprinkle of glitter to this avian spectacle!
Painted by Pamela Hallock from the 2023 Collection. This print is available as a giclee, a digitally reproduced fine art print on watercolor paper called Somerset Velvet. Please see giclee descriptions. All giclee prints are a limited edition of 250, signed, numbered, and dated. Available in two sizes, 22 in. x 30 in. or 14 in. x 19 in. Giclee prints have a 1/2 in. border on the sides and top, and a 2 in. border on the bottom. Fine art prints are shipped flat.
This print is also available on Premium Poster Paper. Please see the paper descriptions. Poster prints are available in two sizes, 22 in. x 30 in. or 14 in. x 19 in. All poster prints have a 1/4 in. border on all four sides. 
The original artwork is 22 in. x 30 in.
Due to the differences in computer monitors, the color of the actual print may vary.
Copyright Pamela Hallock 2023
FALSE
---
More from this collection