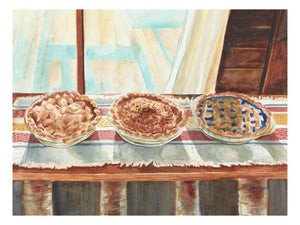 Georgian Bay Watercolors
Three Pies Cooling, watercolor print
Regular price
$30.00
$0.00
In this delightful painting, we are transported back to a time of childhood wonder and discovery as we witness the sight of three delectable pies cooling on a windowsill. With mouths agape and eyes wide with excitement, we can almost feel the excitement of a child discovering these sweet treats for the first time.
The pies are peach, apple, and blueberry, and their golden crusts and bubbling fruit fillings are a feast for the eyes and the imagination. As we gaze upon the scene, we are filled with a sense of wonder and enchantment, as if we too are experiencing the joy of discovering something new and delicious for the very first time.
The aromas of cinnamon apple and juicy peach are almost tangible, and we can almost taste the sweet tang of wild blueberries on our tongues. It's a masterpiece that captures the magic of childhood, the beauty of the natural world, and the joys of simple pleasures.
Painted by Pamela Hallock from the 2018 Collection. This print is available as a giclee, a digitally reproduced fine art print on watercolor paper called Somerset Velvet. Please see giclee descriptions. All giclee prints are a limited edition of 250, signed, numbered and dated. Available in two sizes, 18 in. x 24 in. or 9 in. x 12 in. Giclee prints have a 1/2 in. border on the sides and top, and a 2 in. border on the bottom. Fine art prints are shipped flat.
This print is also available on Premium Poster Paper. Please see paper descriptions. Poster prints are available in two sizes, 18 in. x 24 in. or 9 in. x 12 in. All poster prints have a 1/4 in. border on all four sides. 
Due to the differences in computer monitors, the color of the actual print may vary.
Copyright Pamela Hallock 2018
FALSE
---
More from this collection