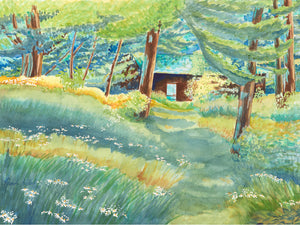 Georgian Bay Watercolors
Twin Waters, watercolor print
Regular price
$50.00
$0.00
This lovely painting captures the essence of Twin Waters - a serene oasis nestled in the middle of a wooded isle. The cabin is surrounded by tall pines, waving grass, and wildflowers that paint the landscape in a vibrant, natural beauty. The fragrance of pine is unmistakable, creating a refreshing ambiance. The soft chirping of birds can be heard in the distance, adding to the serene and tranquil atmosphere. The water in the back bay is crystal clear and sparkles in the sun, while the gusty western channel provides an invigorating breeze. The shelter of the cove offers a peaceful and relaxing retreat, making it the perfect place to unwind and recharge. This painting is a beautiful celebration of the joys of nature and the simple pleasures of life.
Painted by Pamela Hallock from the 2019 Collection. This print is available as a giclee, a digitally reproduced fine art print on watercolor paper called Somerset Velvet. Please see giclee descriptions. All giclee prints are a limited edition of 250, signed, numbered and dated. Available in two sizes, 24 in. x 18 in. or 12 in. x 9 in. Giclee prints have a 1/2 in. border on the sides and top, and a 2 in. border on the bottom. Fine art prints are shipped flat.
Due to the differences in computer monitors, the color of the actual print may vary.
Copyright Pamela Hallock 2019
Original artwork is 24" x 18" inches
FALSE
---
More from this collection