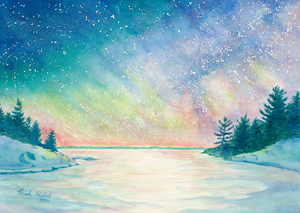 Georgian Bay Watercolors
Winter Sky, watercolor print
Regular price
$30.00
$0.00
As your gaze falls upon the artwork, your eyes are immediately drawn to the burst of light and color in the Winter sky of Lake Huron. The artist has skillfully captured the magic of a cold winter's night, with the northern lights dancing across the canvas like a celestial ballet. The Milky Way stretches across the sky, inviting you to explore the mysteries of the universe. The frozen ice channel is framed by tall pine trees, standing like sentinels guarding the solitude of the scene. The air is crisp and clear, with the only sound being the satisfying crunch of snow beneath your feet. It's a bright night, aglow with the brilliant twinkle of stars, inviting you to take a moment to pause, breathe, and take in the beauty of the world around you. This painting is a delightful reminder of the simple pleasures that winter can bring, and a joy to behold for all who have a love of nature and the outdoors.  
Painted by Pamela Hallock from the 2021 Collection. This print is available as a giclee, a digitally reproduced fine art print on watercolor paper called Somerset Velvet. Please see giclee descriptions. All giclee prints are a limited edition of 250, signed, numbered, and dated. Available in two sizes, 24 in. x 18 in. or 12 in. x 9 in. Giclee prints have a 1/2 in. border on the sides and top, and a 2 in. border on the bottom. Fine art prints are shipped flat.
This print is also available on Premium Poster Paper. Please see the paper descriptions. Poster prints are available in two sizes, 24 in. x 18 in. or 12 in. x 9 in. All poster prints have a 1/4 in. border on all four sides. 
Due to the differences in computer monitors, the color of the actual print may vary.
Copyright Pamela Hallock 2021
Original artwork is 24" x 18" inches
FALSE
---
More from this collection